Ugly Documents Need Love, Too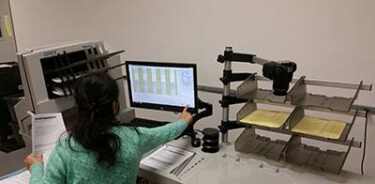 Growth, Experience, Expertise.
BMI Imaging Systems, Inc. has been at the forefront of the document management industry since 1958, first with microfilm and now with scanned images. Headquartered in Sunnyvale, California, with an additional production and sales facility in Sacramento, BMI serves over 500 commercial companies and government agencies, converting an average of 3 million images per month. BMI consists of 60 production specialists and support staff, many having worked for the company for ten years or more.
BMI has developed a wealth of experience in several vertical markets (e.g. healthcare, government education) and offers customized document management solutions in a competitive and changing marketplace. Scanning paper documents is usually the most visible task in achieving a full document solution. Identifying record types, determining indexing methods and leveraging content in existing legacy systems are all skills needed to modernize an agency's document management systems and processes. BMI's systems integration team has decades of experience to achieve this goal. Internally developed software tools, over 400 to date, are regularly employed to solve complex image and data challenges. Jobs that require analysis, data extraction, multiple service offerings and custom development are those that separate BMI from other providers.
The Dilemma of Demanding Document Prep.
BMI is always looking for a better way to lower client costs, one of which is in the area of pre-scanning document preparation. This is especially true with document scanning projects that require a lot of doc prep due to the physical disrepair and condition of the records. "Many hours are required to prepare documents for scanning," states Will Whitney, Operations. "Doc removal, staple pulling, photocopying folders, taping up smaller pages are all examples of tasks that we've been looking to eliminate or streamline in order to make projects more affordable." This physical labor requirement translates to higher project costs, and clients would often not have the budget to go forward with those prep-heavy projects. Reducing this labor cost was necessary to an entire class of project initiatives.
A Better Way – Unveiled.
BMI was introduced to the OPEX Falcon, a unique scanning workstation specifically designed to minimize document prep. During a demo of the OPEX Falcon, the BMI team witnessed the superior paper handling of a broad range of documents in all manner of conditions. Compared to their other scanners, BMI noticed a vast improvement. Jim Modrall, VP Operations, states, "Falcon ingested some pretty 'interesting' documents. We scanned odd shaped, small sized, damaged and fragile pages without incident. Scanned pages that contained staples had no impact on the functionality of the scanner or the quality of the image." Modrall was impressed with the infrequent stoppages of the scanner.
The Rescan Feeder proved incredibly beneficial, allowing BMI to get back on track with little to no downtime compared to their previous experiences. The Rescan Feeder has been engineered to allow documents to be re-fed, maintaining their original sequence without disturbing the stack of documents already on the feeder. An open area behind documents helps prevent dust build up which can cause streaks on digital documents. The engineering is robust and designed to reduce document prep time. Additionally, on the rare occurrence of a jam, the Falcon was easy to clear without disrupting the scanning process.
Where Have You Been All My Life?
Without OPEX, document preparation time was tedious and costly, taking BMI nearly two hours for every 45 minutes of scanning. During the demo, BMI's operations team witnessed the unique process of "prep and scan" firsthand. The potential to predict labor time for each project and demonstrate cost savings is significant. As a result, BMI is in a much better position to help its clients convert messy and damaged documents at a lower price. Just as importantly, the Falcon scanners proved to be capable of higher image quality than existing scanners.
The potential to confidently expand the business and incorporate these types of projects elicited a positive response from Modrall at the end of the demo, "Using Falcon just makes a lot of sense. OPEX, where have you been all my life?!" Finally, the solution that BMI was searching for was realized; the company made the decision to begin replacing their older Kodak scanners with OPEX Falcon universal document scanning workstations.
Making the Most of Every Opportunity
In March of 2015, BMI installed one Falcon workstation in their Sacramento scanning facility. The results exceeded their expectations. BMI was able to reduce its cost of doc prep labor by 30% per box without sacrificing accuracy or quality. The addition of Falcon led directly to several new projects for BMI's clients who had restricted budgets.
The BMI team began realizing other benefits of Falcon which have added to their productivity. For example, using the touch screen for page type identification and the Multi-Function ID Assist™ for color select has eliminated post-scan processing; multi-stream output also allows BMI to export an adjustable greyscale image directly into their Digital ReeL™ product. This impact alone provides BMI with a competitive edge to provide a full solution that ingests all client images, regardless of whether their origin was microfilm, microfiche, fax, or scanned image.
With Falcon, BMI can attack more document scanning jobs than ever before. "We are now able to offer more affordable document scanning services to clients with challenging document preparation work," states Whitney. "Our customers are benefiting from both lower prices and higher quality images."
BMI has ordered a second OPEX Falcon and is looking forward to a potential third unit. According to Modrall, "We provide limited facility tours so that clients themselves have the chance to see how their records are handled. One of the highlights now is demonstrating the OPEX Falcon. Clients are impressed with the professional and predictable way it handles their records and delivers an accurate, high-quality set of digital documents."
For more information about BMI Imaging, visit www.bmiimaging.com, call (800) 359-3456 or email info@bmiimaging.com.