Pushing the Envelopes | Rod Toney's quest to improve mail services systemwide.
Published by: Johns Hopkins Publication
Written by: Judy F. Minkove
Rod Toney's quest to improve mail services systemwide.

For those who foretell the death of the U.S. Postal Service and interoffice paper mail, Rod Toney begs to differ. As manager of Johns Hopkins Medicine Mail Distribution and Transport Services, he handles mail for a complex health system the size of a small city. Although first-class mail volume has declined substantially nationwide, he asks you to consider this: His department's state-of-the-art mail sorter processes roughly 21,000 pieces of mail every week. Total mail volume for the hospital, school of medicine and health system on the East Baltimore campus exceeded 4.4 million pieces in fiscal year 2013. Packages and standard mail—formerly called third-class or "junk" mail—volumes grew by 20 percent.

"Unless we become a totally paperless society—where all advertisements, financial and legal transactions, and every form of communication are done electronically," says Toney, "we'll always have a need for mail." Besides, he adds, items like packages or official documents can't be emailed.

Embracing a New Era of Consolidated Mail Management

When Toney talks about mail, he speaks with the authority that comes from his 30-year career at Johns Hopkins. At 18, the East Baltimore native landed a part-time job at The Johns Hopkins Hospital working alongside his mother in the Nutrition Department as a sanitation worker, washing and racking industrial-size pots and pans. Two years later, to help cover the cost of his college textbooks, Toney took a second job at Baltimore's main U.S. Postal Service office, which led to a mail clerk position in The Johns Hopkins Hospital's mailroom. He worked nights and went to school during the day, earning credits toward a degree in marketing from Morgan State University. By 1990, he was supervising a dozen employees.

"Those were the dark ages of mail," recalls the congenial mail services manager. "No one possessed professional mail management experience. I had some, but it took many years to grow into the job."

In those early days, he recalls "a small space and sacks of mail—no organization, mail all over the place. And our staff lacked the training to deal with the onslaught of mail." It took at least two weeks to get mail from the Phipps Building to the Billings Administration Building, and complaints poured in daily.

In 1995, the department got its first electronic mail sorter, but the machine could process only 13 percent of the mail and couldn't sort magazines. By 2003, the hospital's mail services had consolidated with mail services at the schools of medicine and public health. This required a deeper knowledge of mail operations at each site, says Toney, to better expedite the mail.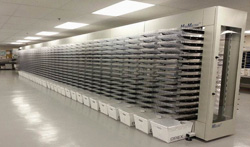 In 2012, mail services obtained one of the nation's most advanced, high-powered sorters: a magnificent machine the size of 1½ city buses. The OPEX Mail Matrix can sort 3,000 pieces of mail per hour in a single pass—97 percent of the total mail volume, including magazines and small parcels.

But machinery alone can't process mail successfully; the department still relies heavily on the skills of full-time employees like database coordinator Terry Thompson, who constantly updates incorrect addresses. Today, mail services comprises 22 full-time employees, and Toney oversees mail operations throughout much of Johns Hopkins Medicine (see below). He's working with other Johns Hopkins Medicine leaders to centralize and integrate additional mail operations.

Valued Expertise, Big Ideas

In recent years, Toney has become something of a celebrity on the national postal services stage. Since 2007, he's served on the Executive Postal Customer Council, and he won an award for mentoring in San Diego, California, and for assisting the U.S. Postal Service in creating a certified mail management designation in Denver, Colorado.

"Rod gets to the nitty-gritty of every situation and doesn't get ruffled," says his supervisor, Chester Wortham, director of special services, who's known Toney for 20 years.

Toney credits Wortham and Ken Grant, vice president for general services, among others, for mentoring him on how to manage people and inspire them to do their finest work. In turn, Toney has hosted scores of student interns.

The future, Toney says, holds promise for more efficient and cost-effective mail systems for the institution. Projects underway include outbound consolidated freight pilots—UPS, FedEx, DHL—to reduce shipping costs, integration of Johns Hopkins Bayview Medical Center mail and better use of unique ZIP code 21287 on campus, to name a few.

Toney envisions an upgraded mail services interactive website in the near future—where employees can submit address corrections and inquiries—to improve the flow. In the interim, Johns Hopkins snail mail management efforts continue unabated. "Between consolidation projects and mail coming through every day, there's never a dull moment on this job," says Toney. "It's like having an air traffic control tower in my head."