Discover Channel: Innovations TV Episode Segment Featuring OPEX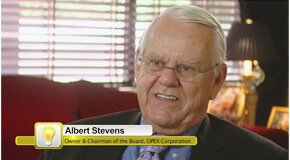 OPEX was featured on Discovery Channel's Innovations TV. Watch the video clip below or read the interview starring Al Stevens, Dave Stevens, Mark Stevens, Jeff Hedges, and iHerb employees.
In 1914, Henry Ford's innovative auto assembly method proved an increase in efficiency from 4.3 cars to 20 cars produced for worker for the year. This advancement had a major impact on production, as companies realized that there was a more efficient way to do business. And began developing the technology to accomplish it.

"When you look at the process of automating, there are a lot of factors that improve quality for our customers. And that quality translates into saved dollars. One way that we improve cost for customers is just labor savings itself." Dave Stevens, President and CEO.

One place it benefited enormously from automation is the mail room. For much of the 20th century, rapidly growing volumes of mail were opened and sorted by hand.

Mark Stevens, OPEX COO, explains, "By the 1980s, typically when you went into a mail room you would find racks of mail that would stream across the entire length of the building. The mailroom clerks would be one of the lower paid people. And so as time progressed, the mail volume started to increase; the job didn't change, but the difficulty did. One of the benefits of automating the mail process is the fact that you would increase the efficiency, but also improve the quality."

OPEX Corporation, a privately held, family owned company, headquartered in Moorestown, New Jersey, is recognized as a global technology leader in high speed mailroom automation, document imaging, and more recently, warehouse automation.

Al Stevens, Chairman of the Board, reflects on his initial connection to OPEX: "In the beginning, my business career started at Columbia Records and it was Columbia House that was a large mail order operation. I had over 200 employees who did nothing but open mail. I was eager to find a company that was going to work on automation in the mail room. OPEX announced that they were doing such a study and that they were developing a piece of equipment. And so, I contacted them and found that, yes indeed, they were developing a machine that was going to run 4,000 or 5,000 an hour and take envelopes of different sizes, open them up, and present them to an operator so that they could work more efficiently.

"We had experiments, we did studies and it was a very enjoyable process because when it was all finished I became the very first customer of OPEX. After a short period of time I was offered a job come to work for OPEX as their national sales manager, marketing manager. OPEX had come through some financially difficult times and so we bought the company."

Today, every major credit card company, as well as hundreds of other leading financial processing centers around the world, have chosen OPEX to handle their incoming mail and remittance transactions.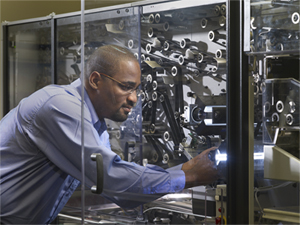 "In remittance payments, we talk about someone mailing a payment in as a consumer to their institution that mailed them the bill," says Mark Stevens, "The Eagle is the latest of the high speed mail opening equipment produced by OPEX. The first thing that you'll see is that there are a set of rollers. Those rollers actually measure the thickness of the envelope to make sure that we have a clean single payment. Once it's passed that test it is going to go through our cutters. The envelope is then peeled apart and contents taken out. At that point we're going to take and separate the check from the document. And we're going to orient both the check and the document. All this could be done at the rate of up to 15,000 envelopes an hour."

OPEX serves thousands of organizations in the financial services, insurance, health care, government, nonprofit, utility, telecommunications, and educational marketplaces. Billions of transactions are processed every year in these industries using innovative technologies designed and manufactured by OPEX. OPEX has also developed an impressive line of proprietary scanning workstations that excel at handling the most difficult document imaging applications.

"So in the traditional scanning process where scanners are looking for clean pieces of paper, we're looking for the messiest work to be able to process. And so OPEX developed the concept of drop scanners," explains Jim Liebler, VP Corp Legal Affairs, "where an operator could literally take something out of an envelope that's folded, something that doesn't fit in the tradition scanning process, drop it onto a conveyor, which jogs the contents, aligns it along a track, and then allows that piece to travel into a scanner where that piece is ultimately scanned."

In the 1990s, OPEX experienced the largest growth surge in its history. As OPEX's influence in the global marketplace continued to escalate, the company made a strategic decision to leverage its technology and 40 year history of providing innovative process improvements and enter the warehouse automation market.
Jeff Hedges, President of Material Handling, describes the system, "Perfect Pick is an automated goods-to-person delivery solution that utilizes intelligent iBOTs. It enables their pickers to be much more efficient because product is being delivered directly to them. Perfect Pick also enables a level of accuracy because you're only presenting the product that you need and you're confirming that you have the right product. That, especially for e-fulfillment companies, is a very important factor."

iHerb, an online retailer that carries one of the largest selections of high quality nutritional products in the world, recently installed a 10 aisle Perfect Pick system to support their rapidly expanding e-commerce business.

Kurt Cheek of iHerb expounds on the benefits, "We can accommodate up to 20 operators at max capacity in Perfect Pick. The training time with Perfect Pick is very short. We are a direct to consumer fulfillment so we're picking to order. About 95% of our orders on a daily basis go through the Perfect Pick system. With the 20 operators we can scale up, we can scale down very quickly by just turning one side of Perfect Pick off or on. From a labor perspective versus a manual pick operation, with a third of the people - we're doing the same volume that our sister facility is doing in California."

"Our customer service goals are high and therefore we need to get orders out the door as quickly as possible. The system allows us to process 30,000 to 40,000 orders a day. It is very flexible in how we do that," says Troy VanWormer of iHerb. "Most orders our facilities only remain in the building for about 10 minutes. So being able to process an order that quickly is a huge advantage in our industry."
OPEX at its core is all about optimizing business processes. Getting the job done faster and more efficiently through automation, whether in the mail room or the warehouse. Jeff Hedges shares that Perfect Pick "makes best use of your available vertical space in a warehouse. As your picking rates increase you could expand the aisle, adding iBOTs to the system. It makes your manual picking operation as efficient as possible. And it enters the market at a price point that's very competitive to other technologies."

Every OPEX product is manufactured using 100% renewable energy from their net zero solar powered facilities. "We always try to look to do things that manage the resources that we believe God has entrusted to us in the best way that we possibly can," says Dave Stevens. "Some people would call it a green initiative. And so a few years ago we endeavored to put up some solar panels, and now 100% of our electric is produced with renewable energy."

Al Stevens expounds on the core principles upon which OPEX operates, "we established some guidelines by which the company would function. Whenever we made a commitment to a customer we would keep it. We would never really misrepresent our product to the customer and overstate its capabilities. And we feel that these principles are so important to build the right confidence, the right relationship, and make sure that our customers were happy so that as their business grew, we would be there and we would be the chosen vendor for that expanded product."