A Solution to Track and Report on All Incoming and Outgoing USPS Mail and Packages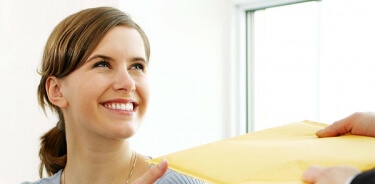 Located in the Southeastern United States, this Business Services group is the print and mail hub of all North American operations for a major manufacturer and retailer. The 1,100 employees, located amidst a three-building campus, are vital in the administration and printing and mailing of payroll checks, coupons, vouchers, product labels, event flyers and sales materials.
Accountability = Connecting the Dots
A key tenet of this Fortune 100 corporation's print and mail operation is "Accountability." When the General Services Supervisor audited his group's support for the organization, he recognized that a significant level of accountability was already built into their processes. However, his staff relied on manual, multi-touch procedures to receive, sort, deliver and track both incoming and outbound mail. These manual processes left little opportunity for research, reporting and performance analytics.
What emerged from the audit was a stated need for automated tools to connect the dots of accountability more proficiently. They desired a solution to track and report on all incoming and outgoing USPS mail and packages, both certified and standard. With that realization, the company began to search for ways to eliminate missorted, delayed and misplaced items. As stated by their management team, "our desire is to use technology to enhance our level of accountability and service."
IT JUST CAN'T BE DONE
The search began by looking at existing vendor relationships within their known network. "We wanted a holistic system that could provide a chain of custody from the time we received an item to the moment of delivery to the appropriate department," stated the general services supervisor. "But we were repeatedly told that the solution of hardware and software tools we envisioned didn't exist. It just couldn't be done…then we found SCLogic."
At the recommendation of the corporate office, the team contacted SCLogic, whose Business Process Management Group came on-site to examine the operation, better understand the Business Services group's current processes, and work together with them to bring the strategies for improvement to fruition. From the start, SCLogic was dedicated to helping their team outline a plan to improve accountability in both the inbound and outbound mail centers and create the comprehensive solution for which they were looking.
QUITE LITERALLY A GODSEND
SCLogic's Intra Enterprise® package tracking software presented a compelling centerpiece. By leveraging the expertise of other vendor relationships, an encompassing blend of hardware and software was combined to provide a solution that met the print and mail operation's exact needs.
What tipped the scale was OPEX Corporation's Mail Matrix® mail sorter. Not only could the Mail Matrix sort mail to exact specifications in a single pass, but it could also apply a unique barcode to each piece. The OPEX Tracker™ software increased the visibility and accountability of all inbound mail, providing Intra Enterprise® with additional data on each sorted item. "SCLogic brought in half the ROI, and OPEX brought the other half, making it an easy solution to justify. Between that and the soft savings, it was a no-brainer," said the supervisor.
In a typical day, accountable items enter the facility and are scanned into the Intra Enterprise system. All items sorted on the OPEX Mail Matrix are distributed to fully customizable staging bins. Once sorted, the bins are scanned, and their contents placed into carts then delivered throughout the campus. As a result, each incoming mail piece or package can be tracked from carrier delivery to final destination. No other vendor could provide an automated, all-encompassing solution that could scale to the needs of the Business Services group. "It was quite literally a godsend; the Mail Matrix combined with Intra Enterprise was a solution that made sense."
SEAMLESS IMPLEMENTATION
According to the implementation team, planning and executing the installation was a painless process. "They fit into our schedule, not the other way around." Setting timelines, scheduling onsite visits, and performing the proactive user training was handled efficiently. SCLogic and OPEX accomplished the integration work behind the scenes without any unnecessary involvement from Business Services. As planned, on the scheduled go-live date, everything was ready to go, and the staff was prepared to handle any potential issues that arose.
ACCOUNTABILITY AND EFFICIENCY REALIZED
The Business Services group was able to achieve the efficiency they were hoping for and save money in the process. "We are now able to handle weekly tasks that took eight hours in about one hour."
Also, with the help of SCLogic's Customer Services Portal, no matter the location of a piece of mail or package within the system, individuals can see exactly where their item is and whether it is Received, Sorted, Out for Delivery, Picked Up, or Shipped.
This Business Services group now:
Receives virtually no calls regarding the location of an item, saving them about 1.5 hours each day NOT managing misplaced items or performing research on where that piece may be
Has approximately 5-6 additional hours of personnel time per day
Can readily meet increasing volume without the need to hire additional employees
Has the staff capacity available to offer additional lucrative services to other departments
Perpetual Benefits
Since the installation, OPEX and SCLogic have continued to work together on innovative enhancements to the system. For example, the business services supervisor wanted to eliminate redundant scans of mail pieces going to the same location. So, OPEX created a manifest containing a barcode to act as a "parent" to all associated "child" mail items. The software now groups mail pieces going to the same location with a single barcode. He states that "the solution saved us significant time by removing the need to scan every piece, yet we can still retain each original child barcode. The visibility of tracking all of our accountable pieces is quite refreshing!"
SCLogic and OPEX continue to maintain their attentiveness and open lines of communication with each other as well as with this satisfied end-use. "It is not often that we see two separate organizations working as seamlessly as these two companies have for us."