How the City of Harrisburg Is Doing More with Less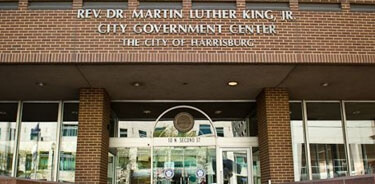 The Office of City Treasurer Achieves Efficiency in the Midst of Economic Crisis
How the City of Harrisburg Is Doing More with Less…
In the recession's aftermath, a growing number of municipalities across the country are struggling as revenue declines and debt increases. Treasurers are being challenged to "do more with less". That is, they must find a way to continue collecting and depositing payments while decreasing the cost of doing so.
The Challenge
The City of Harrisburg in Pennsylvania processes over 1,000 payments a day. These revenue sources vary from real estate and school tax bills to utility payments and parking tickets.
Employees opened incoming mail on an OPEX Rapid Extraction Desk and manually sorted the contents into piles. A full staff of accounting clerks and cashiers processed these piles of payments by hand while serving walk-in customers at the same time.
A backlog of payments repeatedly occurred during monthly peaks. Employee overtime increased and deposits were delayed. Deputy Treasurer, Celia Spicher, needed to find a way to eliminate the carry-over and decrease the overtime.
With the intent of achieving this goal, the city arranged for remote deposit with their bank. A small desktop scanner was set up at the facility, but with no relief. All the sorting and prepping of transactions continued.
The Solution
Since the Office of the Treasurer already used OPEX equipment for opening their mail, Ms. Spicher turned to OPEX for help. OPEX suggested their AS3690 scanner. Once attached to the Rapid Extraction Desk, the combined units would virtually eliminate the carry-over, ensure meeting their daily deposit cutoff and drastically reduce unnecessary labor.
OPEX enlisted the software expertise of their partner, Mavro Imaging. Mavro provided automated document classification software, along with advanced image recognition tools such as OCR and barcode reading. Mavro's Check 21 module replaced physical bank deposits and the MavBridge image-based workflow eliminated the need for storing documents.
The Results
"I never thought or anticipated all the benefits that I could get from just one machine," said Deputy Treasurer, Celia Spicher. OPEX's integrated solution opens envelopes and scans documents at a single station with one operator in one touch.
This OPEX / Mavro solution has drastically reduced manual processing and simultaneously increased data output quality. Ms. Spicher said, "Since our installation late in 2009, we have exceeded all our goals, cut our operating budget by 40 percent and reduced our staff by almost half. We certainly are doing more with less."
The Future
By 2013, The Office of the City Treasurer anticipates being able to achieve an additional 10% savings.
About the City of Harrisburg
With a population of around 49,000, Harrisburg is the ninth largest city in Pennsylvania. The city serves as the capital of the Commonwealth of Pennsylvania and the county seat of Dauphin County. To learn more about the city, visit www.harrisburgpa.gov
About MAVRO IMAGING
Mavro is a proven leader in optimizing One-Touch Processing and integrating OPEX scanners. We deliver innovative solutions across a wide range of applications: Non-Profits, Service Bureaus, Insurance, Banks, Utilities and Government. Our patent-pending Productivity Suite provides system-wide monitoring, ensuring peak efficiency and operational compliance with Check 21, HIPAA and PCI. For more information, please visit www.MavroImaging.com