How E-Retailer iHerb Quickly Fulfills Orders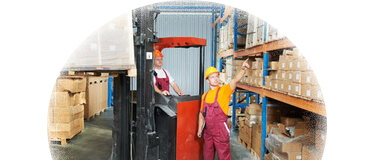 With sales surging to dozens of countries, it keeps two warehouses humming.

By Paul Demery, Chief Technology Editor for Internet Retailer

IHerb Inc., an online-only retailer of vitamin and protein supplements, is a business on a health kick. Sales have been growing at an annual rate of 50% or more for the past few years, with many of its orders packed for customers across dozens of countries in a market spanning the globe.
"We sell high-quality health food supplements and vitamins that people in other countries can't otherwise get," says Troy VanWormer, director of operations.

IHerb is a privately held company and doesn't report its financial numbers, but VanWormer indicates it's on course to rank this year well within the top 200 e-retailers among Internet Retailer's Top 500 Guide. (IHerb currently ranks No. 204, as Internet Retailer estimated its web sales at $99.51 million in 2012.) Fulfilling orders from two distribution centers, in Hebron, KY, and at its headquarters in Los Angeles, it processes several hundred thousand packages daily.

Managing the fulfillment of all those orders—receiving merchandise from suppliers, organizing it in its warehouses, and quickly picking items for each order and packing and shipping packages to dozens of markets—requires a mix of warehouse and supply chain management technology and processes that VanWormer and his team have strived to perfect over the past few years.

With a new mix of technology systems developed and deployed by a team including in-house I.T. experts, outside software vendors and an overall systems integrator, iHerb operates its warehouses in a way that quickly moves merchandise and gets orders out the door to nearby shipping terminals without running up operating costs. "We can't play in Asia if shipping is cost-prohibitive," VanWormer says. "A buyer is not going to pay $50 for shipping to get a $50 product."

IHerb.com uses a few types of systems to pick merchandise in the quickest and most cost-efficient way, depending on an order's destination. At its distribution center in California, which fulfills international orders to customers in Asia and other markets, iHerb uses "pick-to-light" technology manufactured by Dematic that uses a series of colored lights to indicate to teams of warehouse employees which warehouse racks contain the right items for multiple orders prepared simultaneously, VanWormer says. The system, which is designed to let teams of workers fill multiple bins simultaneously from inventory racks, works well in fulfilling large number numbers of orders in batches, which get shipped in groups several hours after customer orders are received, he adds.

But in a Kentucky warehouse that focuses more on domestic shipments to individual customers within the United States, where shipments are more time-sensitive because domestic customers expect of deliveries within a few days, iHerb uses an automated Perfect Pick "goods-to-person" system manufactured by OPEX Corp. The OPEX system brings totes of products to warehouse picking stations, where employees read order instructions on computer screens to pick the right products from each tote for each order. This system is better suited to fulfilling orders that get shipped separately to individual customers, as opposed to groups of orders prepared with the pick-to-light system and shipped in batches to foreign markets, VanWormer says.

Regardless of the warehouse picking methods it uses, however, iHerb also relies on integration of these systems with its in-house-developed warehouse management system, which maintains central records of what inventory is on hand. Although iHerb uses separate systems from Dematic and OPEX, it contracts only with Bastian Solutions, a technology reseller and systems integrator that sold iHerb its Dematic and OPEX systems. Bastian also provides the services to integrate the Dematic and OPEX technologies with the retailer's in-house warehouse management system.

VanWormer declines to note the cost of deploying its overall warehouse management technology, but a spokeswoman for Bastian says a pick-to-light system is typically priced from $100 to $120 per lighting device, with volume discounts for about 1,000 or more. A warehouse can easily have several hundred or more lighting devices, she notes.

Prices of radio frequency and voice-activated systems are usually based mainly on software licenses, with additional costs for devices. Radio frequency software licenses start at about $1,500, while voice systems run $3,000 or more.