Net-Zero Green Sustainable Solar Energy for New Jersey Business Company OPEX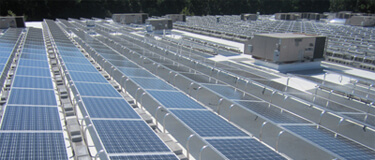 Published by: North American Clean Energy
Written by: Jim McMahon
The rising cost of power has forced many manufacturers to focus their sights on innovative ways to optimize energy consumption and improve operational efficiency in their manufacturing and distribution operations, as well as in their product lines. Energy management, process efficiency, and incorporating more sustainable procedures are critical for maintaining a competitive edge in today's markets.
Switching to fluorescent or LED lighting, replacing HVAC to a more environmentally friendly system, or upgrading to integrated process controls architecture to streamline production, for example, are becoming more mainstream as manufacturers attempt to become more sustainable.


In the world of material handling equipment, for example, most manufacturers of highly automated systems have incorporated some degree of improved energy efficiency into their product lines, whether it's conveyors and sortation units with efficient PLCs and servo-drives, high-speed automated storage and retrieval systems (AS/RS), or picking systems utilizing ultra-capacitors that store energy electrostatically.
These product improvements in power reduction are significant. But, despite the necessity for better energy management, many companies have made only nominal strides in optimizing their own facilities. Many manufacturing plants are still running off of traditional energy sources that are non-renewable, and increasingly costly.
Reaching net zero
Beyond cutting costs and saving on electricity, the commitment to be truly sustainable generally goes beyond lighting and energy management. There must be a drive that impacts the environment for the better and for the long-term.
OPEX Corporation (OPEX) of Moorestown, New Jersey is one equipment manufacturer (known worldwide for its high-speed mail handling and document imaging systems and sorters) that recently took on the challenge—from implementing energy efficiency measures to installing a renewable energy system.
"We were spending a lot of money on electricity, and were constantly battling to reduce those costs," explained Dave Andrews, facilities manager at OPEX. "We had installed energy efficient fluorescent lighting throughout our entire 250,000 square-foot manufacturing and warehouse/distribution areas, and added motion-sensitive lighting in other areas. We also installed a computer-based programmable system for our 100-plus HVAC rooftop units to run on a more efficient user-occupied basis."

With measurable success in reducing its power demands, OPEX decided that still wasn't enough. The company began exploring solar power as an option to further decrease its energy draw, while expanding its sustainability influence. A systematic analysis of the cost interdependencies and optimized energy benefits of converting to solar power was done, taking into account their long-term business and sustainability goals.

"Admittedly, we did not know much about solar energy," continued Andrews. "But this was a logical next step for us. As we started learning about it, the potential of putting solar into our operation began making good financial sense."
Along with a 30% rebate offered by the Federal Government, OPEX has also benefitted from substantial Solar Renewable Energy Credits (SRECs)—not to mention the difference they're making for the environment.
The project
Going into the project in 2010, OPEX's traditional grid energy consumption for the Moorestown complex was 2,589,000 kilowatt-hours (kWh) per year. However, OPEX desired a solar energy capability that would cover 100% of the energy load of its facilities.
To meet these specifications, the project designer decided on a 2.77-megawatt (MW) solar power installation consisting of 8,372 solar panels, each capable of producing up to 250 watts of electricity. The project was engineered to cover the roofs of two buildings and two parking pavilions on the OPEX headquarters, along with a three-acre solar field array, for a total output of 2,772,000 kWh.

The solar system installed at OPEX is not a typical design. Usually solar arrays are set up with all of the panels facing in the same direction, and with the same tilt. But, because the panels were mounted on multiple rooftops, canopies, and a field array, the layout of the PV panels proved somewhat of a challenge. To optimize the solar output, the 82,000 square-feet of panels were situated in six different directions, with various tilts to better capitalize on the available sunlight and space. Technology from a smart combiner was, then, integrated to optimize the flow of electricity.

In a typical PV solar energy design, power in an array of solar modules will only be transmitted equal to the least performing solar module. So, for instance, if seven solar modules are in direct 100% sunlight, but one module is in partial shade and only recording 10% of direct sunlight, then the output of the entire array will only transmit at 10%. Smart combiner technology improves solar array monitoring and sensing, permitting all modules to transmit their recorded levels of sunlight, regardless of whether the modules are in direct sunlight or in shade.
For OPEX, this has significantly optimized the performance of its solar energy capability. And, the results have proven worthy. The power required to manufacture the company's entire product line of automated material handling systems is now derived—100%—from a sustainable source.
Embracing sustainability
If at any time energy consumption exceeds that which is produced by the solar installation, OPEX supplements by drawing energy from the grid. Conversely, when the solar panels are producing more energy then what's needed for the operation of the facilities, surplus energy is put back into the grid. Over the course of 12 months, the OPEX solar energy system is designed to generate 100% of the electricity needed to run its total operations, making OPEX a net-zero consumer of grid power.